Tarantula Canyon
With a name like this, who can resist? Head south one mile from Beatty and turn east on a broad unmarked dirt road. Do not turn right at the mine. Do not turn right to follow the power lines to the repeater station. Take the third right and follow the dirt road into Tarantula Canyon.
A few views from the middle of Tarantula Canyon: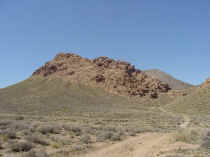 Looking back, NW, at the road we drove in on.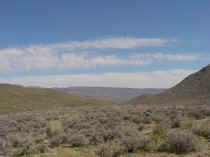 East and the way out. In the distance is Yucca Mt., the site of the nuclear repository. Bear right(south) when leaving the canyon, drive south past the Bare Mt. massif, and turn west to rejoin #95.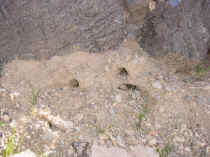 Tarantula Condominium
I think I'll pass on the under the stars bivy bag camping
while in the desert. Thanks anyway.