Mt. San Jacinto 10,804'......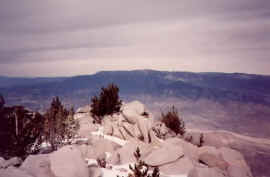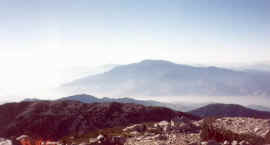 Left; From the summit of San Jacinto, looking north to San Gorgonio Mountain 11,500', southern California's highest mountain. Definitely no Matterhorn, San Gorgonio is also known as "Old Whaleback".
Right; From the summit of San Gorgonio, looking the same 20 miles in a southerly direction, is the imposing North Face of Mt. San Jacinto.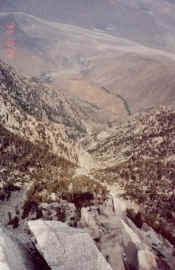 Looking down the 2 vertical miles and 5 horizontal miles of San Jacinto's north face. My attempt on the north face failed even before reaching vertical ground. From the summit what appears as brown ground to walk on turned out to be impenetrable brush and boulders. At the bottom of the north face is a small town known as Snow Creek and the residents are so hostile that it was necessary to park at the Palm Springs Aerial Tramway, take a taxi to Snow Creek, sneak past various barking dogs and misanthropes, and attempt the climb. (Anyone parking at Snow Creek will have their car towed away. It is illegal to park anywhere in Snow Creek) I camped in the brush overnight and the next morning retreated, realizing the scope of the climb was far beyond what I had imagined. So I sneaked again through the hostile terrain, called a taxi on my cellular, and got back to my vehicle. It was also on this trip that I found out that one can get poison oak in the winter when the plants appear to be dead. The bushwhacking was impossible.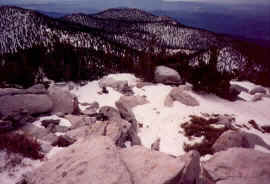 The northwest ridge of Mt. San Jacinto after a successful spring ascent via the Marion Ridge trail.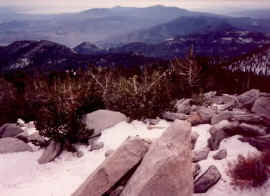 South to Tahquitz and Idylwild.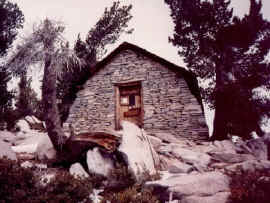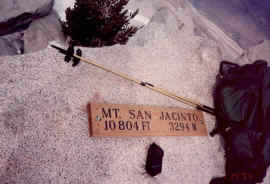 The summit hut and summit block.
A century or two ago people used to exaggerate in a straightforward way and simply exaggerate the difficulty of the climb. Nowadays it is so easy to check the route and see what others say of it's difficulty that it is no longer possible to get away with this kind of baloney. Today people brag by "sandbagging", describing difficult climbs as easy and making people think they must be superman if something so difficult was easy for them.
Doing San Jacinto from the Palm Springs Aerial Tramway isn't all that easy. It is 5.8 miles one way and requires a 2800 ft elevation gain. To get back to the tramway before it closes for the evening requires an early start and some brisk hiking and attention to the turnaround time.