Parker Bluff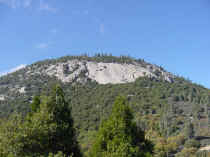 Parker Bluff from the east, from the road.
Parker Bluff is 35 miles north of Lake Isabella and a
couple miles west of the Johnsondale RV resort. The turnoff is
east of the north side of the face and the approach involves some
uphill bushwhacking.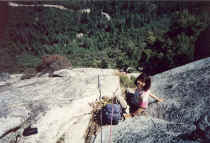 We did our climb on the south side of the face. A bit longer on the approach
hike paid off with a route that took us to the top. The Needles guidebook
by Moser and Vernon is out of print so you might have to be a
pioneer and find your own route.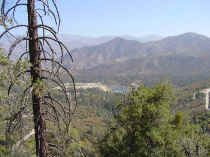 West to the Johnsondale RV resort.