Laurel Mt. 11,812'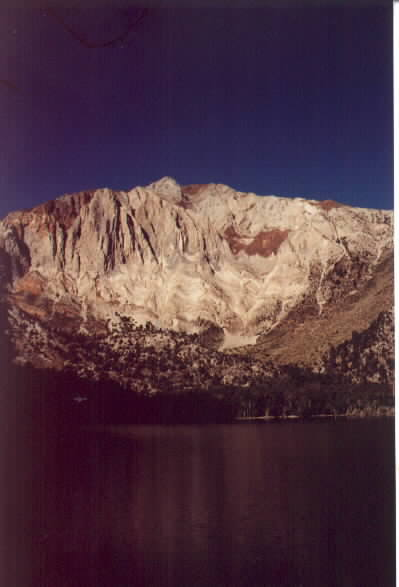 The east face of Laurel Mt. from Convict Lake.
Laurel Mt. has many things to recommend it. It is easily accessible from the Convict Lake resort area. From the backpackers
parking lot to starting to rope up takes about a hour. The scenery is great and the area has a colorful, if not tragic, history. I feel the area is haunted and one should be especially
safety-conscious here. It was on Laurel Mt. 9/7/30
that Mendenhall and Van Patten did the first proper roped climb in the Sierras using the techniques of leading and belaying. The main
disadvantage of climbing here is loose rock,
large and small. A major part of each pitch's tactics will be concerned with climbing around loose rock, not dislodging it onto the belayer, and so on
.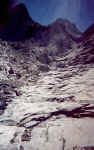 Our favorite protection on this climb was lost arrows
(knife shaped pitons)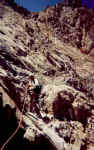 We did 14 pitches by turnaround time but were only halfway up.
Escape From Laurel Mt.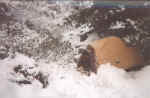 The tent on waking in the morning.
We thought we could get higher on Laurel Mt. if we camped at the bottom and had an entire day for roped climbing, with no approach or return hike to waste precious time on. Speaking of precious time, how about that nifty 4 day chunk of time known as Thanksgiving? However the first snow of the season decided to come down that night, turning climbing day into retreat day.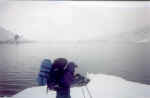 Hanapepe hiking out along the west shore of Convict Lake.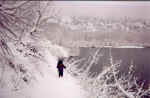 Last is Hanapepe on the south shore of Convict Lake.