Mt. Humphreys
13,986'


Mt. Humphreys from the SW after leaving Piute Pass and
entering Humphreys Basin.


Bivy bag camping in Humphrey Basin in August after a season with
150% snowpack.

High point reached on SW face of Mt. Humphreys, looking south to Piute Pass


Mt. Humphreys from the north at McGee Lake.
---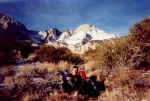 Mt. Humphreys is easily visible from Bishop due to it's dorsal fin shaped summit
on the skyline.

These pictures were taken during a dayhike recon from our vehicles parked at
the SW corner of the Buttermilk Road. Nevertheless, we gained a good bit of
elevation on the east ridge before turnaround time.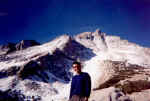 The bottom two pictures are of the view looking down and looking up at
the highest point we reached. The time is Thanksgiving. Perhaps a multi
day attempt during longer days would get that summit a bit closer.