Mt. Tom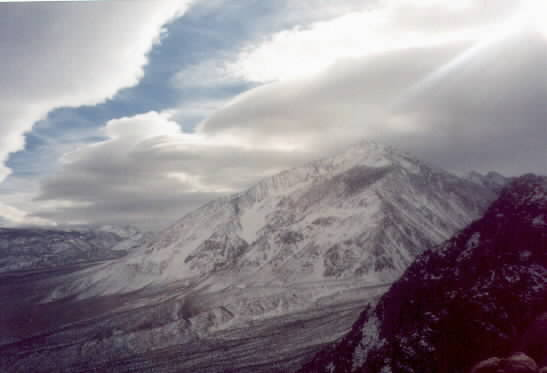 Looking south at Mt. Tom 13,652' from halfway up Wheeler Ridge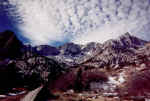 Autumn at Horton Lake, on the south side of Mt. Tom, looking east at
Four Gables 12,720' and the Sierra Crestline to the left.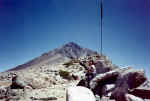 Summer solstice on the west ridge of Mt. Tom, taking a break
next to a mining drill bit still stuck in a block of granite

View looking west on the north face. The unnamed peak in the center is the east end
of the east ridge of Bear Creek Spire.

---

Mt. Tom is the largest mountain as seen from Bishop. It is 7 miles in diameter at its base and is 5 miles east of the crestline which makes it much bigger when seen from the Owens Valley. On its north side is an active tungsten mine supporting the town of Rovana. On its south side are mining claims legally alive but otherwise abandoned. Although it looks like a volcano it is composed of Sierra granite.


---


My partner, Javier, deciding what route he is going
to pull me up on.


The high point at turnaround time
setting up the first rappel.

Coming down on the first rappel.