Deadman Mt.
Deadman Mountain is part of the Wyoming Range and can be accessed by driving 20 miles south from Alpine on the Grey River road. Head east 3 miles on forest service road 10005. The trailhead is unmarked. Getting to the mountain isn't too difficult but getting back to the vehicle before it gets dark is crucial. Hiking to the Wyoming Range crestline and getting far enough north to approach the mountain from the NE makes all the difference in tagging the summit. We attempted the technical east face and ran out of time and energy.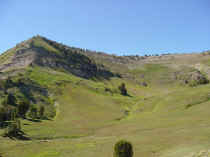 A person should have this view of the NE face
before climbing the mountain.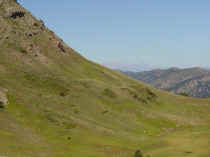 North to the Tetons.

East to the Wind River Range.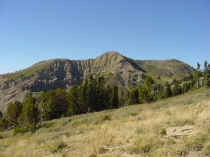 On the left side is the nasty east face that defeated us
while we were ignorant of the easy switchbacks going up the NE face.