Mineral King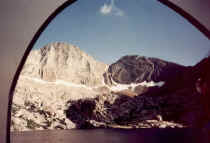 Franklin Lake and Florence Peak 12,432'

Our 40 mile, 5 day loop backpack started at Mineral King in the Southwestern Sierra.On the first day we hiked to Franklin Lake 10,300'. On day 2 we crossed the Great Western Divide crestline at Franklin Pass 11,760'and camped at Little Claire Lake. From the tent is Franklin Lake and Florence Peak 12,432'. In Sequoia and Kings Canyon National Parks the mountain ranges are shaped like a small backward h. The Sierra Crestline is the long vertical line on the right of this backward h. The Kings-Kern Divide is the short horizontal section and the Great Western Divide is the short vertical section.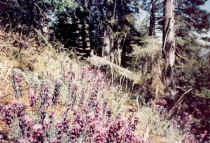 Snapdragon on the east side of the Great Western Divide.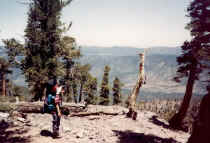 At the confluence of Soda Creek, Lost Canyon Creek, and the Big Arroyo Creek, all of which belong to the Kern River watershed, seen to the east. It was on this trip that I learned the importance of keeping one's feet dry. While pulling the moleskin off my heel one evening the skin came off with it!! Better to do less mileage, change socks more often, and give the feet time to dry during the day.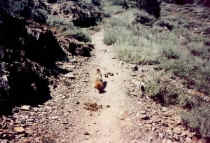 Yummy yummy yummy I got love in my tummy..... Rhinos and marmots are two coprophagous animals and I'm sure there are many more. Marmots love to establish colonies near pack stations and those rodents sure look well fed.