Training!!!
In Reinhold Messner's book, "The Seventh Grade", he describes
the extremely difficult climbs he did in the Alps in the Sixties,
when he was in his twenties. Nearly all of the climbs were first
ascents by route, time to do the climb, or first to do it solo.
He also describes his training which consisted mainly of running
and finger strengthening exercises. In the beginning of the book
he was going for a morning run and by the end of the book he
was getting ready for Nanga Parbat and spending the afternoons
cross-country running and running uphill on his toes for a hour.
He credits his survival on Nanga Parbat to his training.
How can one hope to emulate Messner?
Griffith Park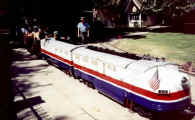 In Los Angeles, Griffith Park will have to do. To start on the east side
park at the choo-choo train and pony ride parking lot and head west.


Soon one has a view of the world famous Golden State Freeway , the Los Angeles River and in the distance, the Glendale Forest Lawn Cemetery,
resting place of Hopalong Cassidy among others.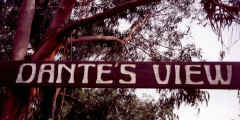 Next is a garden within the park, created by Dante Orgolini who has passed
on but his work is preserved by volunteers.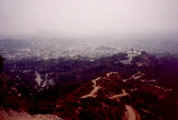 At the halfway point is a beautiful view of LA smog with downtown LA hidden
in the top left and the Griffith Park Observatory to the right.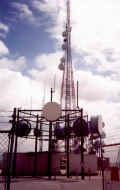 Continuing west is Mt. Lee, the site of the City Of Los Angeles transmitter station.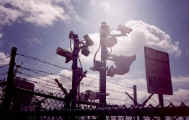 Barbed wire, warning signs, video cameras, speakers, microphones, infrared
motion detectors, laser tracking automatic firing 500MJ railgun plasma
particle beam electrothermal launchers. Looks like the city of Los Angeles
is getting sort of sore about all the vandalism to the Hollywood Sign.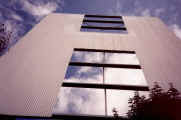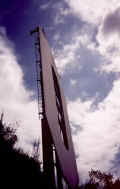 These photos of the sign were found on a park bench in Central Park. I don't
have a clue as to who might have actually walked down to the sign and taken them.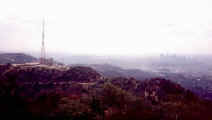 Mt. Lee fades away to the east as the high point of Griffith Park is reached.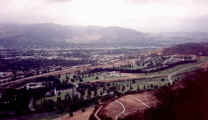 To the north is Forest Lawn Cemetery of Hollywood Hills and Burbank.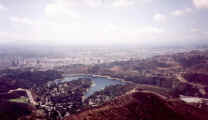 South is Hollywood Reservoir.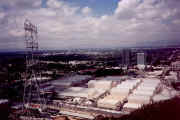 Those taking the NW spur will go by NBC studios in Burbank.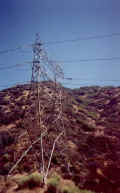 Finally, the west end of the Griffith Park Ridge with the never to be famous
City of Los Angeles Dept. of Water and Power 230kv Toluca-
Hollywood transmission lines. Hazards to watch out for include poison
oak, rattlesnakes, dehydration, people walking their pit bulls unleashed,
and being passed by young women.