Bald Mt.
Due to the Bighorn Scenic Byway crossing the northern section of the Bighorn Range, and the Medicine Wheel Passage entering the range farther south and joining the Bighorn Scenic Byway at Burgess Junction, and a network of dirt roads, many peaks are accessible as easy dayhikes.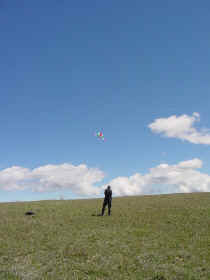 On the summit of Bald Mt. we found a fellow from New Mexico
flying a kite. He was the only fellow peakbagger we encountered
in Wyoming. I think those Wyomingites are too busy getting ready
for the next winter to engage in such frivolity.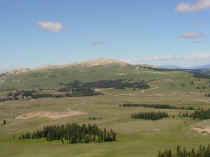 To the NW is Medicine Mt. and the site
of an aircraft tracking station.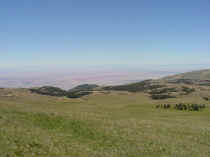 To the hazy west is the Bighorn Basin.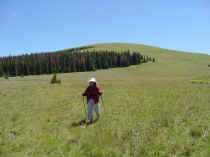 Hanapepe descending trailess Bald Mt.